Yorkie's aren't dogs, they're a LifeStyle!
They deserve to be pampered and spoilt.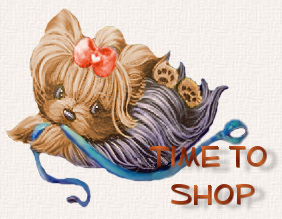 Dr. Irma has selected only the finest Yorkie merchandise for your you and your Yorkie!
You are welcome to call during office hours 012-664 5774 for more information.
Don't forget that Dr. Irma also stocks the well known Wampum grooming products in her shop.
If you have any suggetions please click here and fill in our feedback form.
The form will open in a new browser !