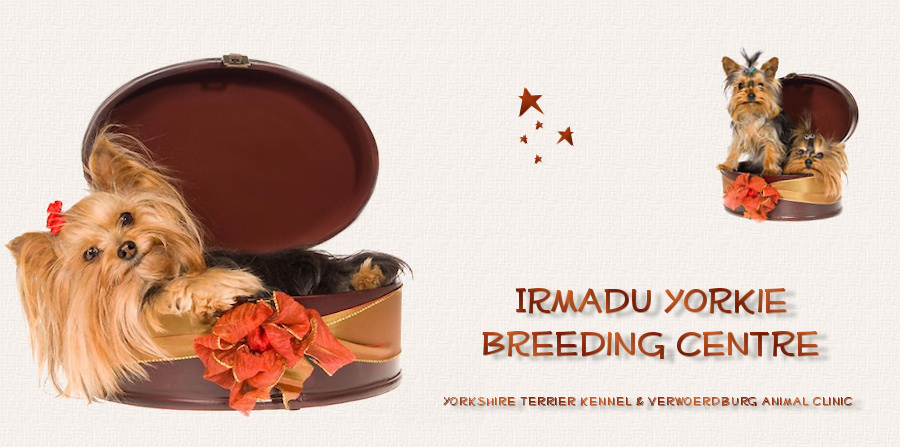 Irmadu Biewer Terriers are here! There are puppies available - don't miss out! Click here to visit our website.

PLEASE NOTE: There are scammers that may try to sell you a puppy, using either our kennel name, our KUSA membership number and/or KUSA registration certificates of dogs. BE AWARE!
1. We will never use a third party or agent
2. If you don't have a written agreement signed by both parties, don't make any payments
3. Call us directly or KUSA (021 423 9027) if you want to verify who you are dealing with
New puppies available! Check out our Facebook page or click here for pics!
The Yorkshire Terrier has in the last few years proved itself statistically to be one of the most popular of the toy breeds.
Annual dog statistics from KUSA for 2013:
Yorkshire Terrier - 2 309;
Rottweiler - 1 119;
Retriever (Labrador) - 1 114;
Bulldogs - 1 093, and
Bull Terrier- 1 043.
This tiny dog with engaging personality and dauntless courage has endeared himself to pet lovers everywhere. His qualities as a companion are unsurpassed for he is possessed of great intelligence, the characteristic fearless and tenacity of a dog many times his size. He has the obvious practical advantage of diminutive size, making him the most obvious choice of a pet in this era of condensed living spaces.
The Yorkies' appetite for long tireless walks, equaled by the alternative ability to exercise himself in a somewhat reduced space, makes him ideally suited to anywhere from urban to country living and he is thus adaptable to all lifestyles.
The aristocratic appearance of the Yorkshire Terrier is a tribute to the dedication of breeders who have taken the breed from its humble beginnings and produced the eye-catching dog of today. It should be remembered, however, that this lustrous coat can and will look its best only with constant grooming and attention from the owner, a point which should be noted carefully by you, the prospective buyer.
The pet owner who has neither the time nor the inclination to give his/her Yorkie the necessary daily brushing would be well advised to trim the coat to a manageable length and maintain it this way, as the Yorkie looks and feels happier with short carefree clip than a long, bedraggled and uncared for coat.
The current worldwide popularity of the Yorkshire Terrier, with its connotation of glamour and success, makes it difficult to believe in the very humble origins of the breed. It was in the coal mines, textile mills and homes of working men in Great Britain that this delightful little dog first became established.
Much of the appeal of the Yorkshire Terrier lies in its diminutive size and consequently it has a surprisingly small appetite. It is essential, therefore, that whatever food is offered should be as well balanced and wholesome as possible. Royal Canin has developed a breed specific food for Yorkies.
A Yorkshire Terrier from the coal mines of Great Britain, or in your home with its ability to be suited to anywhere from urban to country living and adaptable to your lifestyle can make a Yorkshire Terrier a pet lovers dream come true.
Please remember Irmadu Yorkshire Terrier Kennels in your purchase of a Yorkshire Terrier. I will be there to help in any way possible.
The Yorkies featured in this website are all from
Irmadu Yorkshire Terrier Breeding Centre
Learn all about the Yorkshire Terrier with our pages, packed with useful information and pictures about the cheeky, cute and beloved little Yorkie.
This website is filled with information on Yorkie Behaviour, Raising Puppies, Nutrition, Health and Grooming Tips.

Got a Yorkie health question? I am available to assist you with any questions regarding the Yorkshire Terrier. You are welcome to email me at animals@icon.co.za
Please Note:
If your Yorkie is seriously ill or has an immediate health concern, seek treatment from your local veterinarian IMMEDIATELY. This service is only for non-emergency Yorkie health questions or issues.
Click here for Contact Details
Dr. Irma Bailey is a registered accredited KUSA member.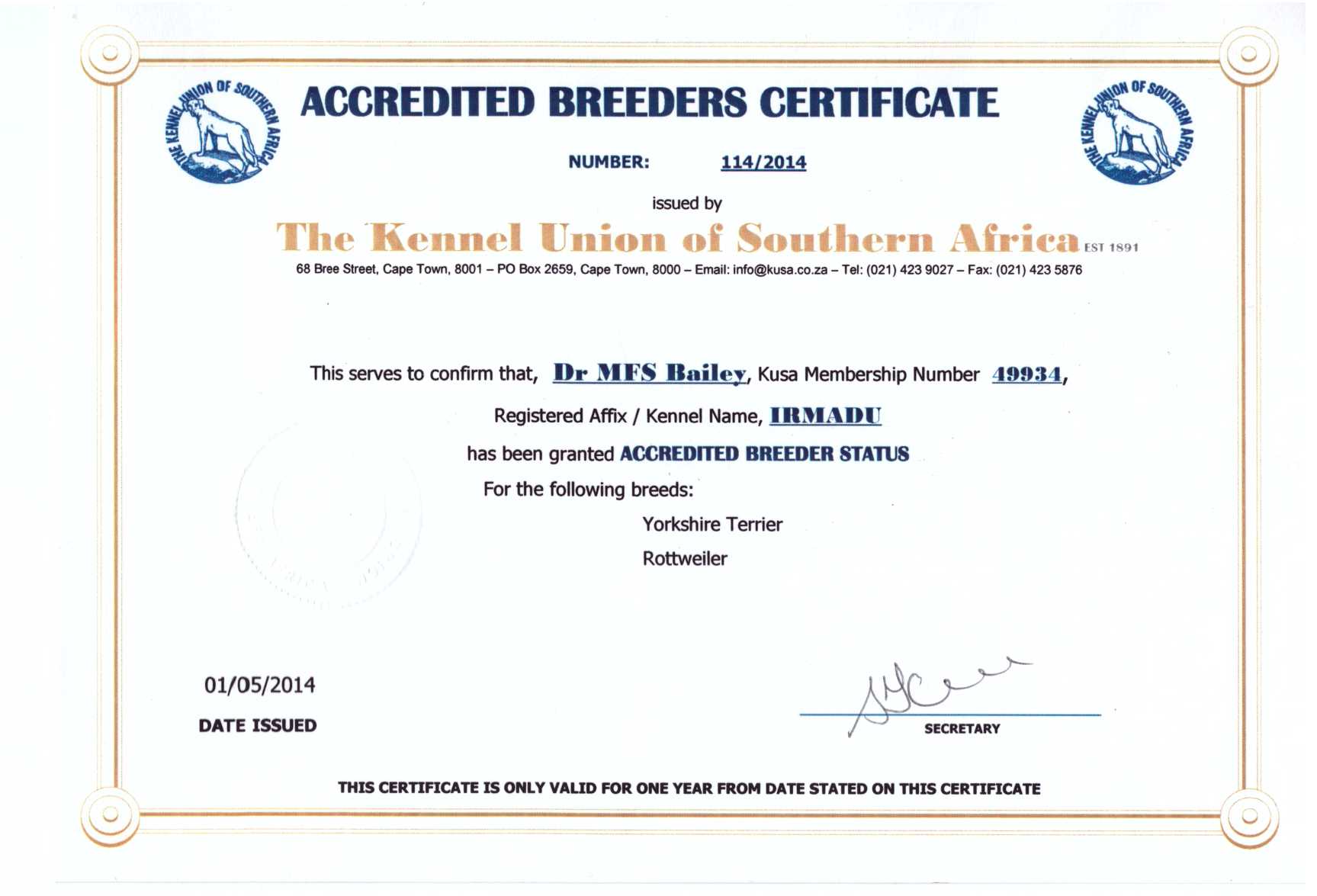 To find out more about KUSA, please visit their website - click here



eMail: animals@icon.co.za

Dr Irma Bailey:
083 276 5069