Dr Irma Bailey
My Veterinary Practice supplies special education and advice to all Yorkshire Terrier owners.
Our specialized Yorkie services also include the following:
Routine care (giving medications, pills, medicine; taking temperature; boosting vaccinations; deworming), canine conditions and ailments (anal glands, bleeding, choking, coughing, ears, fits, heatstroke, lameness, slipping kneecaps, Legg Perthes disease, stomach problems), bowel enteritis, haemorrhagic enteritis, colic and skin complaints.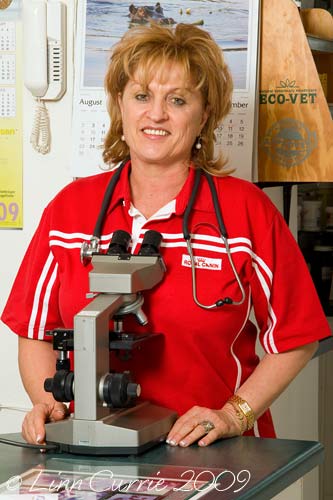 Dr. Irma Bailey in the consulting room
For Yorkies, the correct feeding is very important and all relevant information can be supplied by us .
Centurion Animal Clinic is an established practice in Centurion (Lyttleton) since November 1977.
In 2002 the practice was rebuilt, with a new look and a new and bigger retail area.
My staff is dedicated and trained to provide the best service and advice to pets and their owners.
The facility meets all the standards required by the South African Veterinary Council.

Consultation hours:

Monday to Friday:
10:00 - 12:00 and 17:00 - 18:30

Saturdays:
09:00 - 11:00


Emergency Number:
+27 83 276 5069
110 Trichardt Road, Lyttleton
Dr Irma Bailey
083 276 5069 / 012-664 5774

| | |
| --- | --- |
| The hospital and recovery area | The surgery |