The Elegant Paws grooming parlour has been around for 15 years. Many of our customers have been with us right from the beginning. All breeds are welcome. Afghans, Border Collies, Collies, German Shepherds, Huskies, Maltese poodles, French poodles, Standard poodles, St. Bernards, Toy Poms, Scottish Terriers, Schnauzers, Yorkshire Terriers, Chows and even short-haired dogs like English Bulldogs, Boerboels, Jack Russels and Rottweilers and cats are regular visitors to the parlour.
There are two groomers working at Elegant Paws – Solly Magongwa and Jeffrey Mashao. Jeffrey has been working at the parlour from the beginning and Solly joined him soon after that. The groomers work every week Mondays to Fridays from 08:00 to 16:00 and on Saturdays from 08:00 to 12:00.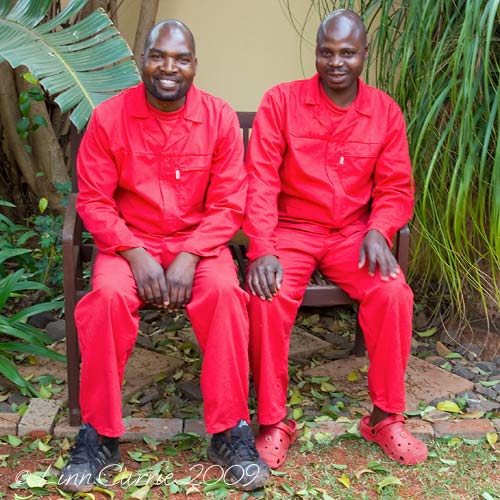 Solly (left) and Jeffrey (right)
The parlour consists of the main area where the animals are bathed in warm water and then taken to the tables where they are blown dry with warm blowers and brushed and clipped to the owner's requirements.
There are rows of small cages for smaller dogs and cats with larger cages in the adjoining room for medium to large dogs. Here the animals await their turn to be groomed and afterwards to be collected by their owners.
Having the grooming parlour in the same building as a veterinary practice has distinct advantages because any animals that require medical attention can be attended to immediately. All nervous or anxious animals can be tranquilized under veterinarian supervision. Inversely, an animal sometimes has to be shaved or washed before an examination or operation. It is also an advantage that the groomers have extended experience of working with and handling sick animals, as some of our regular customers own elderly and/or infirm pets.
You can make an appointment and find out about our tariffs at the parlour by phoning (012) 664 5774/5 weekdays from 08:00 to 19:00 or Saturdays from 08:00 to 12:00. You can also phone the above numbers to make an appointment with Dr. Bailey for consultations, examinations and operations or for general queries on grooming, medical issues, correct diets for your pets and much more.